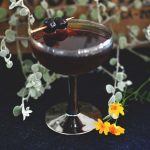 A classic Manhattan made with any Mosswood Whiskey is a simple treat.
Mosswood Manhattan
2 oz Mosswood Whiskey
1 oz Sweet Vermouth
2 dashes Angostura bitters (sub cacao bitters w/ Espresso Barrel)
Cherry for garnish.
Stir with ice to chill and dilute slightly. Strain into a coupe or glass of your choice. Garnish with brandied cherry.