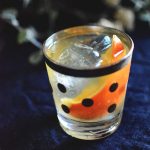 The Old Fashioned is so simple, you build it right in your glass! Use any of our whiskeys with only angostura bitters, or try this modified version with the Espresso Barrel.
Espresso Old Fashioned
2 oz Mosswood Espresso Barrel
2 barspoons simple syrup
2 dashes angostura bitters
2 dashes cacao (chocolate)  bitters
Orange twist
In a rocks glass of your choice, start with the bitters, then add a big ice rock, pour whiskey on top. Stir several times to chill and dilute slightly. Garnish with orange peel and/or a cherry.