Looking for a spirit forward cocktail with a little bitter spin? Here's a great cocktail to serve after a meal. This brainchild of bartender Nick Stratton over at Shakewell is absolutely delicious. It was created not long after the Bruto Americano was released. The name is from the street intersection by Mosswood Park in Oakland, Broadway & MacArthur Blvd. "Between the Mosswood [Espresso Barrel] Whiskey and the cocktail being a riff off of a Boulevardier, the name just came naturally," Stratton states about his process. Love it, now you can try.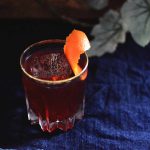 Broadway & Mac
.75 oz Bruto Americano
.75 oz Cocchi Barolo Chinato
1 dash Angostura Bitters
Stir and strain into a double old-fashioned glass with a single large cube. Garnish with a thick orange peel.
by Nick Stratton (@IG) of Shakewell Oakland.